Disc springs
Dimensions and characteristics disc springs in a table:
Table (PDF; 120 kB)
GREWIS Co. offers the largest assortment of hot - processed disc springs in Europa.
Grewis Co. is producing disc springs from input material of thickness 2 mm - 35 mm and of diameter 40 mm - 700 mm.
Toleration of disc springs adheres to standart ČSN 026063 and DIN 2093 (PDF; 320 kB)
Disc springs with atypical dimensions can be produced according to the requirement of the customer as well as apart from both above stated norm.
Disc springs are defined especially for big load with minimal deflection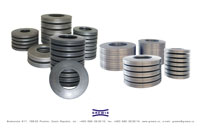 Disc springs features
Special features of Disc Springs (hereinafter DS)
Great limiting force under low space necessity.
Better utilization of the space towards another spring types in dependency with demand of limiting force achievement.
Designation of spring possible loading forces by means of chosen way of linking into sets.
The axial medial load with guiding pivot application, or with application of guiding cylinder.
High stability under persistent and variable pressure as well.
The heat treatment (hardening and tempering) in electric ovens prominently diminishes the risk of material decarburization.
The springs side area and hole area are conical and they are supplied with the shot peening surface. According to the customer´s requirement may be also the zinc surface coating. Consecutively follows the protect coating.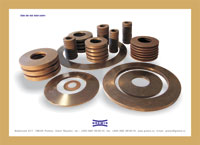 Way of load and life expectation
The static load - the DS are systematically stressed with permanent, constant stress without occurrence of break.
The dynamic force the loading force is applied at BW within the given force interval.
The variable load the DS are stressed with permanent or variable force according to the requirement applied.

DS utilization in set
Single unit
Sets with uniform seating (units laid one on the another)
Sets with opposed seating (units laid one against another)
Seats with combined seating (uniformly laid unids seated one against another)
Disc springs utilization:
Metallurgy - mining and production engineering
Power industry - pendant kettles for electric power stations
Agriculture - cultivator sets,fertilizers and crushing machines
Industrial processing - production of machines and of sets for tool, s fixing, safety valves, fittings, turbines
Hydraulic engineering - spring brakes of motor vehicles
General engineering - delimitation of compresion machine sets and devices